BPM Systems Ltd
Lambcote Barn
Carlton Lane
East Carlton, Leeds
West Yorkshire
LS19 7BG
Tel: 0113 826 7680
Bunch Wrappers
Bunch Wrap Principles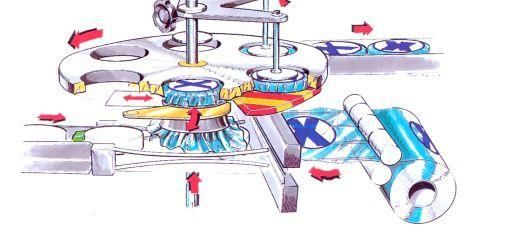 Bunch wrapping produces folds conforming to the product shape; round, rectangular or shaped. Reel fed film, print registered and date coded is cut to size.
The product is pushed through the film into a folding box or for high speed, into a rotary head. Tuckers close the base which is sealed prior to ejection.
Typical products wrapped this way include adhesive tape reels, bearings, pies, cheese and sausages. We are always happy to advise on matching the process to the product.
The standard range comprises 5 models, tabulated below, and lines can incorporate Automatic Feed Conveyors. Customised designs also available.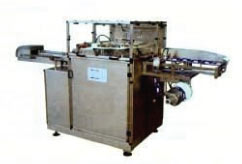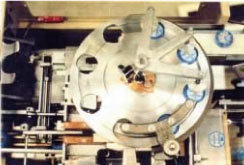 The high speed machines are capable of packing speeds up to 100 pieces per minute when packing small items.
Specialised models for wrapping sausages and other food products are available.
Developed from Original 'Carrington Packaging' Brand
Model Number
Description
Typical Wrapped Product Description
Product Size Maximum
Film Size Maximum
Dia.
Length
Width
Height
Width
Cut Off
50
High speed
Small, round or rectangular
80
100
75
30
185
220
60
Medium speed
Regular or irregular with straight or tapered sides
127
149
121
76
305
349
70
Medium speed
As type 60 but with larger size range
305
254
254
152
635
660
85
Specialised
Sausage wrapper
-
160
115
65
425
425
87
Medium speed
Regular or irregular with straight sides only
100
100
190
76
500
320
NOTES: Product size maximums are not necessarily all available concurrently. Dimensions in mm.