BPM Systems Ltd
Lambcote Barn
Carlton Lane
East Carlton, Leeds
West Yorkshire
LS19 7BG
Tel: 0113 826 7680
L-sealers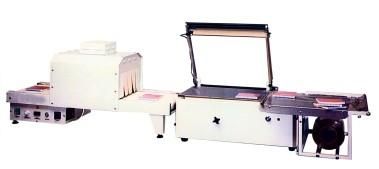 Burnley's shrinkwrapping systems include an inexpensive range of bench mounted l-sealers & tunnels for small scale manual packaging operations. These components allow a wide range of packaging arrangements to be easily constructed, such as the typical setup shown below.
We also offer a freestanding modular system, featured further down the page, which doesn't require benches, and therefore provides more flexibility - particularly useful where packaging lines might need occasional repositioning.
Bench Mounted L-sealers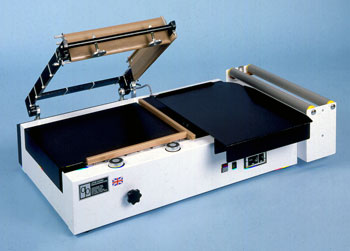 Options:
PTFE Sealing Blinds
Floor Stand and Castors
Stainless Steel Dividing Plate
Hole Piercing Unit (Electrical)
Perforating Attachment
Standard Features:
Single Wire Sealing Head
Electronic Control of Sealing Cycle (Impulse or Constant Heat)
Adjustable Height Pack Table
Time Powered Conveyor
Floor Stand and Castors
Powder Epoxy Stove Enamel Finish
| L-Sealer Ref. | Heat | Sealing Area (mm) | Electrical Supply Requirements |
| --- | --- | --- | --- |
| BPMS30 | Impulse | 305 x 305 | 230V. 1 Ph. 5A. |
| BPMS38 | Impulse | 380 x 380 | 230V. 1 Ph. 5A. |
| BPMS66 | Impulse | 660 x 508 | 230V. 1 Ph. 5A. |
| BPMS91 | Impulse | 914 x 610 | 230V. 1 Ph. 5A. |
| BPMS121 | Impulse | 1219 x 762 | 230V. 1 Ph. 5A. |
Modular Freestanding L-sealer and Tunnel System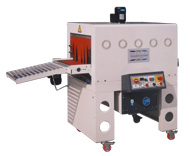 BT40 Shrink Tunnel
Variable speed rolling rod conveyor
Controllable airflow
Full temperature control
Height adjustable conveyor
Gravity discharge conveyor
Tunnel aperture 400mm x 220mm
+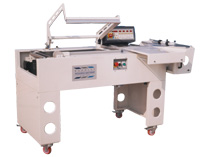 BS55A Lsealer
Semi-automatic system
Adjustable sealing time
Sealing bar cooling system
Powered, controllable product transfer belt
Sealing area 550mm x 420mm
High production rates
Patented safety head system
Built-in counter unit
Touch control settings adjustment
=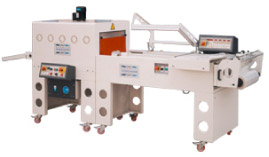 Semi-Automatic L-Sealer & Tunnel
Waste rewind and foot switch options available
No requirement for compressed air
Voltage range 220/400V 50/60Hz 3Ph
Power requirements:- Tunnel 7kW, Lsealer 3kW
Max. film roll 300 mm dia. x 600 mm wide
Overall dims. 3340L x 900W x 1455H
BC5542 Combined Shrink System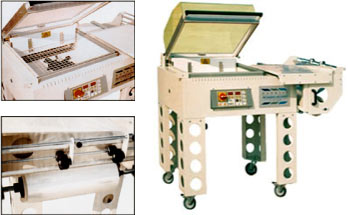 Features:
L-seal and shrink in one operation
Teflon coated sealing blades
Totally adjustable temperature controls
3 - pre-programmable settings
Sealing area 550mm x 420mm
Adjustable product tray
Sliding dividing table & reel unit
Single phase power supply
Freestanding with lockable castors
One person operation
BC55AE semi-auto version also available
Fully Automatic Wrapping Sealers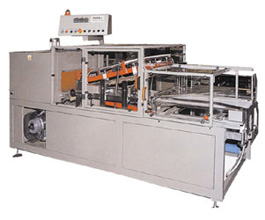 This is one of an extensive range of fully-automatic wrap & sealing machines we can supply, designed for integration into production lines.
These machines are productive and reliable, provide complete automation, and do not need the continuous presence of an operator.
Their control panels also permit the adjustment of a wide range of settings to suit the product being packaged and the type of film being used.
Please ask for more details if you have a possible application.