BPM Systems Ltd
Lambcote Barn
Carlton Lane
East Carlton, Leeds
West Yorkshire
LS19 7BG
Tel: 0113 826 7680
Soap Wrappers
BPM BTW-690 Flex film soap wrapping machine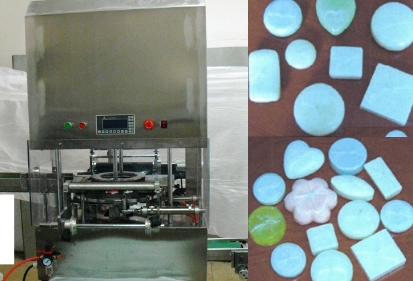 The machine is capable of working for 24 hours non-stop and is very reliable. One person can operate two machines even with two different soap shapes.
Standard Features:
Pneumatic operation with PLC control
Automatic pick and place into film wrapping iris
Automatic film spin and seal
Automatic hot press cutting
Surplus film rewind
Automatic label application (option)
Subject to total size range, can pack different shape of soap without change of tooling
Easy to operate
Technical Data
Working speed
10-15/min
Soap Size
Diameter: >40mm Height: Customer choice
Packing paper Size
Roll Outer: Diameter < 200mm Packing film width:<260mm Roll core: <75mm
Power
0.5kw
Power Supply
110V/220V
Compressed air
6kgf/cm2
Machine Size
850 x 850x l000mm (L x W x H) Weight - approx 400kgs.